Maplewood of Mt. Pleasant Staff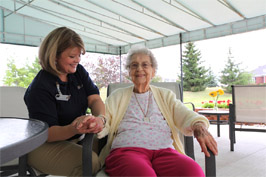 What differentiates one assisted living community from another? The answer is... the people who work and reside there! The people set the tone, the atmosphere, and the expectations. At Maplewood of Mt. Pleasant, we take great pride in ensuring that everyone feels like part of our family, and that they are treated as special "guests" in our home.
Maplewood of Mt. Pleasant employs a team of highly qualified medical professionals, including Registered Nurses and state tested Certified Nursing Assistants. Physical Therapists, Occupational Therapists, and a Speech Therapist are available on an outpatient basis through The Laurels of Mt. Pleasant. Our on-site Dietary and Activities departments provide personalized and compassionate care to each guest. From the moment you walk through the front doors, the warmth and caring of the staff will begin to gain your trust and confidence, as they strive to exceed your expectations.
Unlike other facilities that use "contracted" staff members, each member of the team at Maplewood of Mt. Pleasant is directly employed, not "contracted". Each Team Member takes great pride in portraying "The Laurel Way of Caring", as they strive for excellence in providing only the highest standard of care and services to every guest, and to every family member and visitor. Come on in! Visit a while! Let us show you our very best... let us show you The Laurel Way.
Sharie Barringer, Community Manager
Sharie has been in the Skilled Nursing and Assisted Living profession since 1990. Sharie started out in a Skilled Nursing Facility as a Certified Nursing Assistant working in that position for three years and then moving into Marketing and Admission Coordinator for two years and then into the Business Office in AP, AR, and Payroll, while also attending Great Lakes Community College nursing program. After realizing her love for the elderly, she continued with taking the Michigan State Nursing Home administrator course and during this time accepted the position with Laurel Health Care Company as the Community Manager at Maplewood of Mt. Pleasant and has held her position since 1997. Sharie is also co-founder of C.A.R.E. (Compassionate Associates Reaching the Elderly) and is an active member of the Lions Club International and Michigan Center for Assisted Living.
Kay Beard, RN, Director of Nursing
Kay received her Associates degree in nursing in 2001, she started at the age of 16 working as a Nursing Aide with The Laurel Healthcare Company. Kay has always thoroughly enjoyed working with Senior adults. Kay feels Maplewood allows her the opportunity to communicate and create great relationships with residents and their families. She states that the family like atmosphere is amazing, I love to see the friendships that exist between the staff and residents. Kays top priority is to be a patient advocate for the residents in order to keep them happy and comfortable in their current setting.
Heather Parkhurst, Director of Marketing
Heather Ashley has a Master's Degree in management and currently serves as Director of Marketing. Heather also has an Associate's Degree in Radiology from Mid Michigan Community College, and a BA from Spring Arbor University. Heather is committed to the community and is a proud member of the Mt. Pleasant Rotary club and Co-Founder of C.A.R.E (Compassionate Associates Reaching the Elderly). Heather's experience in the medical field and joy of working with the elderly brought her to The Laurel Health Care Company.